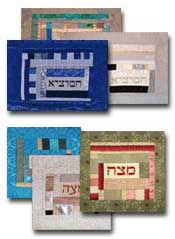 Velvet Moonshine Fabric Art features handcrafted Challah and Matzoh Covers, Havdalah Spice Bags, Tallitot and Tallit Bags utilizing luxurious fabrics interwoven with a Judaic theme. Choosing the name of Velvet Moonshine was a family affair. Some years ago Joye, spouse Larry and children Ami, Miri and Benjamin visited Hawaii. Among the lush and beautiful surroundings, during an evening stroll on the beach, Velvet Moonshine Fabric Art was born.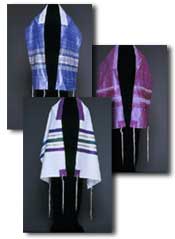 Each specially designed Velvet Moonshine piece is lovingly created to become a family heirloom--the perfect gift or personal treasure. All pieces are designed by the artist to reflect individual style and color preference. Whether you prefer the simplicity of a neutral pallet or a more dazzling combination, there is a color scheme to fit your flair.
You may read about the history of our creations and view samples of our work in the products section. If you would like to place an order for your own custom challah or matzoh cover, please use the contact form, or feel free to call us. Our telephone number in Bethesda, MD is 301-379-3569.