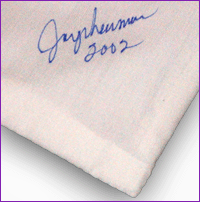 Joye Newman, a Bethesda, Maryland resident, graduated from George Washington University in Washington, D.C. and is an integral member of the Jewish Community. She has been creating ritual Judaic art for many years and bestowing these gifts upon family and friends. Velvet Moonshine Fabric Art was launched as a vehicle for sharing the passion of her craft and continuing Judaic traditions. Joye's love for creating treasured works of art inspires her to continue to expand the Velvet Moonshine line, always including new and unique pieces.

Shelly Rudo is the Director of Sales and Marketing. She and Joye have been privileged to share a friendship since high school. Shelly's two sons were fortunate to receive creative and imaginative handcrafted gifts from Joye as young boys. Please feel free to contact Shelly with any comments or questions regarding Velvet Moonshine Fabric Art designs.
Velvet Moonshine Fabric Art is a member of the American Guild of Judaic Art.